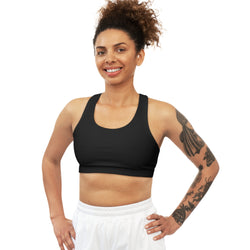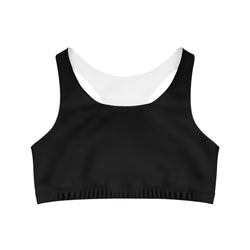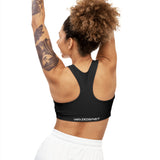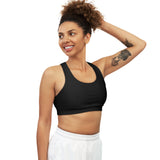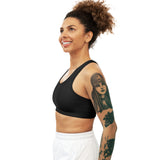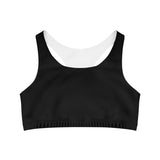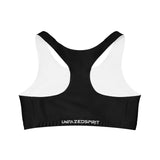 Introducing the Black Seamless Bra - Your New Go-To for Unmatched Comfort, Style, and Versatility!
Experience Ultimate Comfort: Our Black Seamless Bra is like a gentle hug for your body. Crafted from soft, breathable materials, it offers comfort that feels like a second skin, so you can breeze through your day without discomfort.
Elevate Your Style Game: With its serene Black color and sleek, minimalist design, this bra effortlessly combines fashion and function. It's perfect for yoga, casual outings, and those quick coffee runs post-gym, ensuring you feel confident and stylish all day long.
Unmatched Versatility: Whether you're a hardcore gym rat, a dedicated gym enthusiast, or simply seeking an everyday bra for casual comfort, our Seamless Bra has you covered. It provides ideal support for low to medium-impact activities, giving you the flexibility to take on your day.
Optimal Breast Support: Designed to cradle and support your breasts, our Seamless Bra ensures that you're always in control. No more worrying about discomfort or inadequate support while you work out or relax.
Freedom of Movement: This bra is flexible and reliable, adapting to your body's every move. Say goodbye to underwires and hooks that dig in; our seamless design ensures a snug fit without constraints, so you can conquer your day effortlessly.
Who Is It For and How to Use: Our Maroon Seamless Bra is perfect for gym rats, gym enthusiasts, yoga lovers, and anyone who values comfort, style, and versatility in their daily life. Whether you're sweating it out at the gym, flowing through yoga poses, or simply lounging around, this bra will be your perfect companion. It's designed for everyday wear, offering the right support and comfort you need, no matter where your day takes you.
Elevate your comfort, style, and versatility with the Black Seamless Bra. Don't miss out on the opportunity to experience the best in fitness and leisurewear. Order yours today and embrace a new level of confidence and ease in your active and relaxed moments.
Upgrade your wardrobe and your life. Choose the Black Seamless Bra - Your all-in-one solution for unbeatable comfort and style.
Made to Order
Size Gude
|   | XS | S | M | L | XL |
| --- | --- | --- | --- | --- | --- |
| Bust, in | 34.49 | 36.50 | 38.50 | 40.51 | 42.52 |