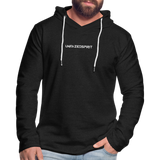 Amplify Lightweight Sabour Hoodie (unisex)
Amplify Lightweight Sabour Hoodie
Amplify Lightweight Sabour Hoodie (Unisex)
Introducing the Amplify Lightweight Sabour Hoodie (Unisex), the perfect blend of comfort, style, and practicality! This hoodie is designed to elevate your everyday wear with its exceptional features.
Unmatched Comfort: Experience the ultimate coziness with our Sabour Hoodie. Crafted with a premium blend of lightweight materials, it's soft, breathable, and perfect for all-day wear, keeping you snug no matter the weather.
Timeless Style: Stay fashion-forward with our versatile hoodie. Its sleek design is a seamless addition to any wardrobe, effortlessly complementing your personal style. Whether you're going for a casual look or dressing it up, the Sabour Hoodie has got you covered.
Easy Care & Maintenance: Tired of complicated laundry routines? You'll love the Sabour Hoodie. It's machine washable, so you can keep it looking fresh and new without any hassle.
Tailored Fit: The Sabour Hoodie features a unisex design, ensuring a comfortable and flattering fit for everyone. No matter your body type or gender, you'll feel and look great in this hoodie.
Versatile for Any Occasion: Whether you're hitting the gym, running errands, or simply lounging at home, this hoodie is perfect for anyone looking for comfort and style. It's a must-have addition to your wardrobe for all seasons.
Who's it for and How to Use:
The Amplify Lightweight Sabour Hoodie (Unisex) is for anyone who values comfort and style in their daily attire. Whether you're a busy professional on the go, a fitness enthusiast hitting the gym, a student, or someone who appreciates the comfort of a great hoodie, this is the perfect choice.
To use it, simply put it on and enjoy the comfort and style it brings to your outfit. Dress it up with jeans for a casual day out or pair it with workout gear for a fitness session. It's versatile and perfect for all occasions.
60% Cotton/ 40% Polyester (Heather Gray, Heather Navy & Cream Heather Pink are 100% Cotton) | Fabric weight: 7.08 oz
Textured, terry (towel-like) fabric on sleeves and hood trim
Rough-cut, open cuffs and waist
Fitting Note: Unisex cut falls to the waist and will fit tighter for men, more relaxed for women
normal fit
Made to Order
Size Chart
| | A | B | C |
| --- | --- | --- | --- |
| XS | 24.49 in | 18.98 in | 23.46 in |
| S | 25.47 in | 18.98 in | 25 in |
| M | 27.99 in | 20 in | 26.5 in |
| L | 27.99 in | 21.97 in | 25.98 in |
| XL | 28.46 in | 23.46 in | 27.99 in |
| 2XL | 30 in | 25.47 in | 27.72 in |